STF postcard no 34 – OLD FARM IN SKREA

A beautiful day in the spring, in the beginning of May 2014, Elisabeth and me took a trip to Halland. Two of our last motifs in our "photo project" in Halland was waiting.
We had a very warm welcome in Vinberg by Margareta and Mats.
The first motif was "Old farm in Skrea".
Thanks to Stig Agnåker, in Skrea's society for local history, for telling us about Monica Bondesson. She knew where this photo was taken. It was one of two farms in the village Kull still on same place as from "the beginning", a neighbor to her self. Mats was a former SLU-friend to Monica's parents. Lars-Börje, my cousin, knew of course wery well who she was, "very widely-travelled", and I understood that Monica, knew Lars-Börje. "The world is a small place."
Monica Bondesson not only knew from where the STF-photo was taken, she also knows a lot of her native districts history. The farms named "Kull" was widely spread at the time when  farms with small fields where reorganized to bigger fields. They where spread from the church of Skrea and down to the sea.
Her self is today running a faktory for cheese making, with the name "Skrea Ost".
We had the favour to be able to buy some cheese. Later that night we enjoyed!
Remarkable well tasting cheeses!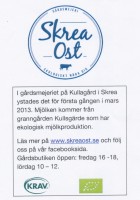 As always, click on picktures and text, but most of all, take a trip to the cheese shop in Skrea  and by somne cheese!
www.skreaost.se
Back to STF – the postcards