Svea's "Notbook Över the Hens laying of eggs",
Januari 1936 to July 1937.
Svea was 13 years old when she carefully noted, day by day, the result of her duty, picking the eggs that the hens had layed in the hen house. If I do understand the notes correctly she got 1/4 of one "öre" ("cent") per egg she brought in. According to the notebook Svea picked, in 1936, 6 236 eggs, of them 5 083 was sold and 1 153 consumed in the family.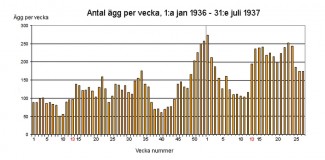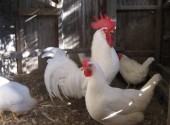 A question turned up: Was it in that way that the hens layed more eggs when "Marie bebådelsedag", "Våffeldagen", intervened in week 13? The diagram to the left does not indicate this. It was other factors that regulated the eggproduktion in Blixtorp 1936/37.
About 30 years later .. Svea had own children and siblings children …. .  1964 a summer at Guntorp …. . .
I think I wrote this warning on a shoebox in 1964? .. . Today, 51 years ago! Do you remember Dan-Inge? The eggs we collected. A summer I never will forget. That summer you managed Guntorp while Svea and Evald had a small holliday. I hope that "the cousin from town" didn't make to much trouble. So many memories: All whiped eggs with sugar, bicycle to the dealer in Asige to bye "biscuit chip", fishing some evening by Suseån, … many hours on knee in the beet field, .. memories … enriching memories . .. .